Resistive Load Bank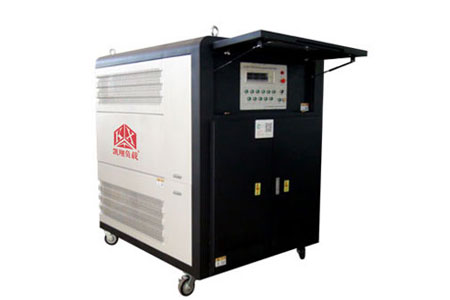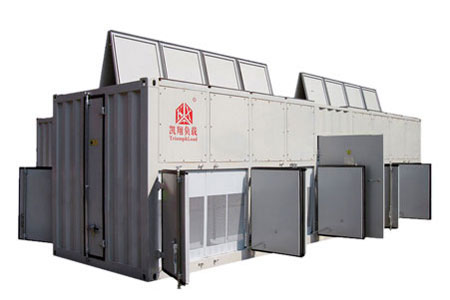 Introduction
---
Resistive load bank(AC Load Bank, Dummy Load Bank, Generator Load Bank,Load Bank for Generator Testing) is a device which can simulate the real-life resistive loads and provides a rigorous test regime for power supplies from 1kW to 60MW. The "load" of a resistive load bank is created by the conversion of electrical energy to heat by power resistors. It mainly used to test and maintenance of Engine Generators, Storage Battery Systems, UPS Systems, Inverters, Ground Power Units, Auxiliary Power Units, Aircraft Power Generators, Wind Generators, Hydro Generators etc.
Resistive load bank are available in stationary type for permanent installation(Permanent Load Bank) or portable type(Portable Load Bank) with lifting rings, castors. Larger load banks, typically above 1250KW, are based on an ISO container construction. Special finishes including custom paint colors and stainless steel casings can be supplied.

Main features
---
1.Control mode: (1)local manual control panel (2)remote manual control box (3) remote console (include manual panel and PC control)(4)laptop control
2. Protection function: overvoltage, overcurrent, overheat, over low blowing rate, blower overheat, blower phase sequence reverse protection, smoke alarm etc.
3. Cooling: industrial heavy duty blower, horizon air intake, upwards outlet, low noise.
4. Power consumption components: made by special alloy resistance, high temperature resisting, high heat dissipation capability, high heat stability, no naked light, safety and reliability. Running temperature is 1/3 of rating.
5. Weather-proof structure: containerized structure provides ultra protection, protection grade higher than IP55.
6. Material and coating: the body adopt cold-rolled steel plate that processed by galvanizing corrosion protection, powder coated and spray paint.
7. Integrated & modularization design: easy to installation, maintenance and transportation.
Technical Parameters
---
Model
Installed Capacity
Power Factor
Load Voltage
Dimension
W*D*H(mm)
Weight(kg)
AC400-20k
21kw
1
3 phase 400V 50HZ/60HZ
480*485*680
30
AC400-100k
110kw
700*900*900
80
AC400-200k
210kw
1200*1500*1500
200
AC400-500k
510kw
1460*1980*1800
750
AC400-1000k
1010kw
1600*2400*2100
1500
AC400-2000k
2010kw
6058*2438*2591
5000
AC400-3000k
3010kw
7000
AC400-4400k
4410kw
8000
The parameters is only for reference, pls contact supplier for exact information