Intelligent Battery Charger (ZCD)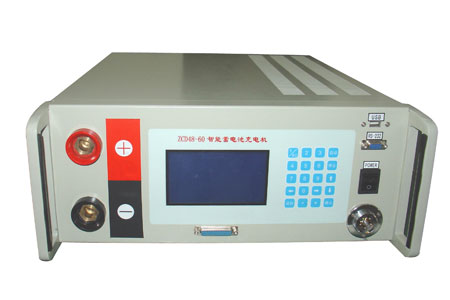 Introduction
---
Integrating charging and on-line monitor in one, Intelligent battery charger is the essential instrument that can charge, test capacity to battery, boost charge and daily maintain to battery after deeply discharging and accept to new battery pack. It adopts intelligent three phase charge mode, and can achieve the function of charging quickly, high charge reproduction efficiency and automatic conversion of constant-current to constant voltage. Parameters of voltage, current, time and capacity can be set and displayed. The machine can automatically achieve testing, monitoring, displaying and recording to the parameter of storage battery pack. After charging, test data can be transferred to U disk or upload to PC with RS232 interface. Data process software kit can process charge data information and form all kinds of charts, which provide scientific basis for analyzing battery capability.
Main Features

---
1.Display mode: LCD display, real-time display all testing data: charging current, charging voltage, charging time, charging capacity and inner temperature etc.
2.Control mode: SCM control, setting by keyboard the even charging voltage、floating charging voltage、charging current、charging capacity、charging time.
3.Wide application range: the charging current can setting any value between 10% to rated value, and will not influenced by the change of input AC voltage, the current will be stable during constant current stage, no need adjust by manual.
4.Intelligent three stage charging mode: Constant current charging-fixed voltage, reducing current-floating charging Auto stop function: It will auto stop when charging time, charging capacity or protection voltage reach the setting value.
5.Auto alarm function: It will alarm when overheat or disconnect of the battery connection wire.
6.Real-time monitoring function: Real-time display and control all setting Parameters (voltage、current、capacity、charging time etc).
7.Record query function: It can reserve 4 group charging data, the user can query is according to requirement.
8.Data transfer function: It equips with USB and RS232 interface. After charging, the data can be transferred by U disk or connect to PC by RS232.
9.Data processing function: The charging data proceed by software then generate curve chart and support to print.
10.Computer remote control function: Can setting and revise the charging parameter by computer and start /stop the charging.
11.Power off memory function: When power off suddenly, it can reserve the testing data, no need set the parameter when restart.
12. Calibration correction function:Calibrate the total voltage and current.
13. Power consumption components: It adopts special alloy resistor, produce with patent technology, high power density, no naked flight, safe and reliable, long service life.